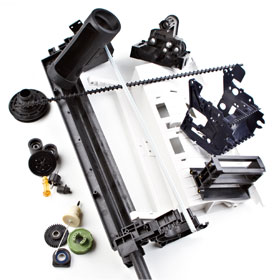 When the founders of Custom Plastics International Ltd started the company in Cobourg, Ontario, Canada in 1965, they envisioned a mid-sized family run plastic injection molding business that offered quality products to OEM's at a fair price. Over the decades, Custom Plastics have utilized a hands-on management style with technical expertise to build a loyal customer base that continues to support Custom Plastics today. In our latest customer survey, 95% of their buyers and engineers were very likely or extremely likely to recommend Custom Plastics International to their colleagues. We are very proud of that response.
To continue improving, we have recently invested in fully electric machines, robotics, clean-room technology, web-based training, scientific decoupled 2 injection molding practices, an ERP system with real time monitoring and some of the most sophisticated project management tools available in the industry.
Strategies like controlled growth, reinvestment of profits and "bend over backwards" customer service have helped Custom Plastics International Ltd. prosper in the past and will continue to do so in future.
Custom Plastics Highlights:
Scientific Decoupled Injection Molding
Advanced Product Quality Planning (APQP)
ISO 9001:2015 and CGP Registered
Design for injection molding, Metal Replacement
Mold design and tool commissioning
Simple to complex assembly (DFA)
Pad Printing, Painting, Silk Screening, Labeling
IMD/IML In Mold Decorating and Labeling
EMI Shielding, Electroplating and vacuum metalizing
Heat staking and Ultrasonic Welding
Robot Controlled Adhesive Bonding
Re-shoring. Tool transfers