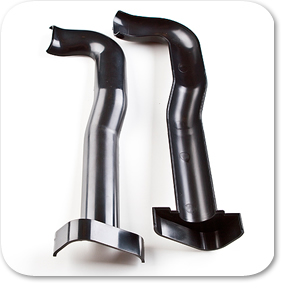 Custom Plastics engineering department has highly skilled and experienced professionals with a proven ability to take a single idea or a complicated assembly from the concept/prototype stage to a finished product (including metal to plastics conversions).
By combining practical plastic product design and tooling experience, along with the latest in analysis software, we can provide the best solutions to difficult design challenges.
PROJECT MANAGEMENT
From Advanced Product Quality Planning to mold testing, Custom Plastics maintains a detailed checklist of activities to monitor each phase of a mold's fabrication, approval, and continued maintenance. We utilize sophisticated project managing tools and draw on our extensive experience to ensure successful project implementation.
DESIGN FOR MANUFACTURING
Custom Plastics work closely with our customers to ensure that parts are designed to be problem free for the life of the program.
Mold Filling Analysis (MFA) is used to ensure molding issues are understood during the initial mold design stages.
TOOL COMMISSIONING
By maintaining a global supplier base of mold manufacturers including Asia, Canada and the United States, Custom Plastics International Ltd can offer both quick lead-times and cost effectiveness.
DESIGN / ANALYSIS SOFTWARE
Custom Plastics uses the latest versions of each of the following software packages:
Solidworks – CAD Software
Solidworks – CAD Software
Solidview – Viewing Software
Moldflow Mold Advisor – Analysis Software